Veterans of Foreign Wars
VFW Post 10904 - Manchester, TN
Third Annual - Vietnam-Era Veterans Dinner
13 May 2021
and
Vietnam-Era Veterans Honors Day and Fair
15 May 2021
---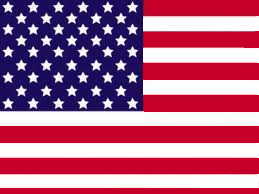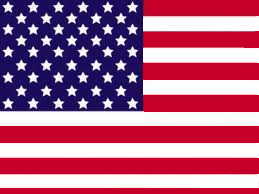 Sponsored by: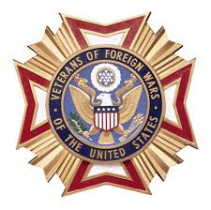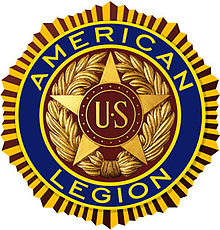 Veterans of Foreign Wars Post 10904
American Legion - Gold Post 78
Disabled American Veterans - Chapter 90
Marine Corps League - Detachment 1128
---
Vietnam-Era Veterans Honors Dinner
Click Here to hear a 2019 interview conducted by Thunder Radio
detailing the Vietnam-Era Veterans Dinner
and Vietnam-Era Veterans Honors Day and Fair

Great food for all in attendance with a catered "spoil you" dinner
for veterans, guests and their familes.
Be sure to register with Kimberly King; Contact info below.
Guest Speakers Include:

Master of Ceremonies
Howard Thompson
1st LT; Vietnam
Quartermaster/Adjutant - VFW Post 10904
Commander - Disabled American Veterans, Chapter 90
Special guest speaker
Captain William A. Robinson
United States Air Force.
The Vietnam War's longest held enlisted Prisoner of War, POW.

Special guest:
Past State Commander - VFW Department of Tennessee
Lloyd Hansen
Please, absolutely NO WORK will be done by anyone who attends.
This event is designed to give you the honor you deserve
and to show our gratitude for everyone.
---
Please register in advance.
The event is free to those in attendance.
All family members welcome.
Dinner starts at 6 pm followed by our special guest speakers.
Contact Kimberly King at
flygal46@yahoo.com
or call 931-692-8326 to register.
---
See our Toy Soldier Project.
View a display case of 58,479 toy soldiers,
one for every veteran killed in the Vietnam War.
The case has some interesting facts and is the combined project of dozens of citizens,
schools, organizations and veterans.
---
Important Update:
Our Vietnam-Era Walk and the Vietnam-Era Veterans Honors Day and Fair
has been moved to Westwood Middle School due to weather concerns.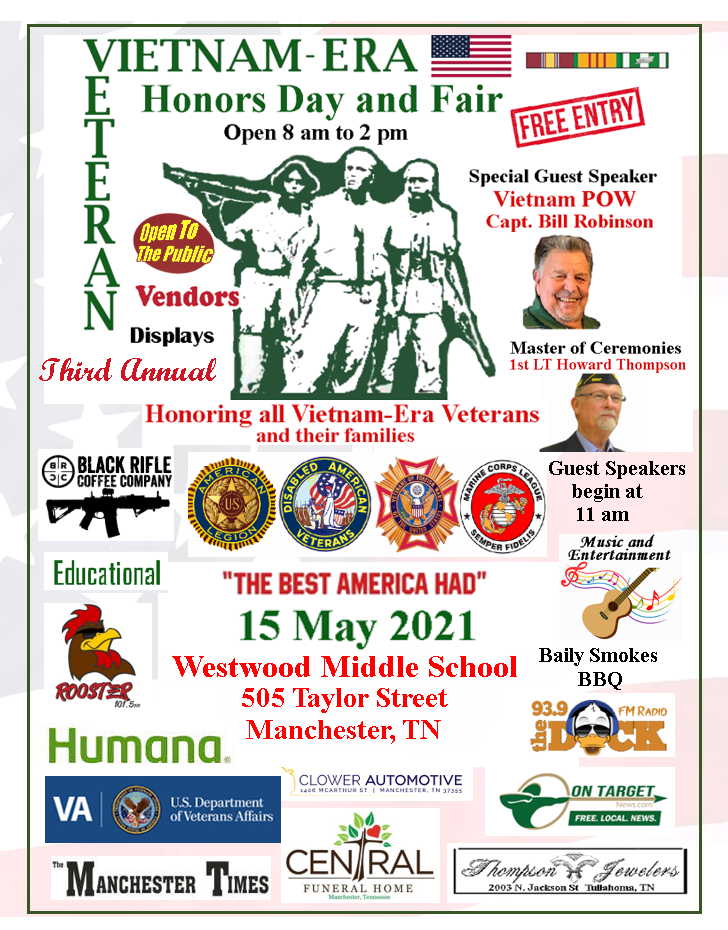 Veterans Honors Day and Fair
Westwood Middle School
505 Taylor Street
Manchester, TN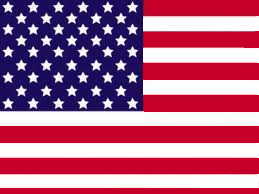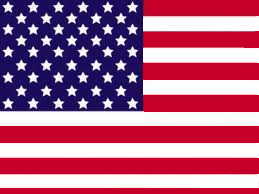 Our Goal:
To provide an educational, honorable and entertaining event for veterans,
their families and to the community.
ALL veterans and their families are welcome.
The general public is encouraged to attend as well.
Special tribute and honors for our Vietnam Veterans.
All are welcome to attend! Free entry.

Special Guest Speaker:
Captain William Robinson - U.S. Air Force
The Vietnam War's longest held enlisted Prisoner of War (POW)

Master of Ceremonies:
1st LT Howard I. Thompson - U.S. Army
Commander - Disabled American Veterans
Chairman - Coffee County Veterans Association
Quartermaster/Adjutant - Veterans of Foreign Wars Post 10904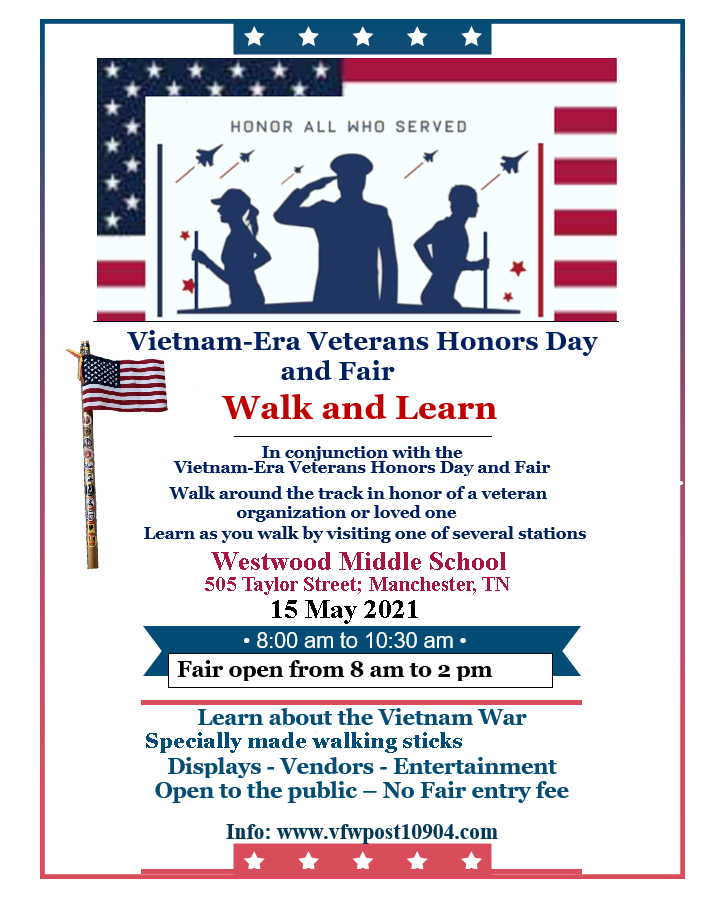 Veterans Memorial Walk
Participate in a "Walk and Learn" event from 8 am to 10:30 am.
Special walking sticks available to the first 75 registered walkers for $15.
Educational stations along the route.
Visit each station along the route and receive a special sticker for your walking stick.
Complete all stations and receive a special dedication Vietnam War sticker.
Educational, walk for good health and honor the veteran of your choosing.
Perfect for Scouts, groups, kids, families, veterans and organizations.
---
---

Awesome entertainment by the Clower Family Band
A very special thank you to all our
generous and wonderful sponsors:
~ Humana ~
~ Clower Automotive ~
~ Thompson Jewelers ~
~ Central Funeral Home ~
~ Jefferson's Restaurant
~ On Target News
~ Black Rifle Coffee
~ Woodmen Life ~
~ Manchester Times ~
~ Thunder Radio ~
~ The Duck, 93.9 Radio ~
~ Tennessee Magazine ~
---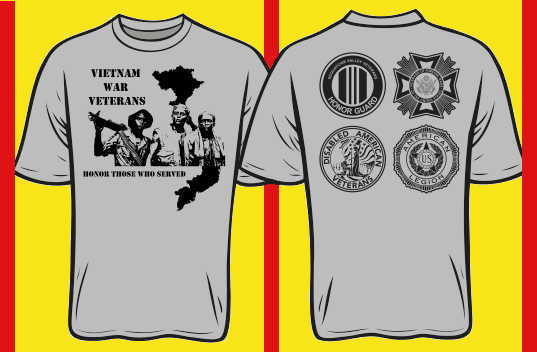 Event T-Shirts for only $10!
Click Here to view the front of the actual t-shirt.
Click Here to view the back of the actual t-shirt.
---
Bigger and better than ever along with more medical health screenings and information provided by
Tennessee Valley VA Healthcare System, booths, live entertainment, t-shirts, food and more.
--
---
School art will be on display for our Vietnam Veterans Art Contest as well as other
memorials and dedications.
What to contribute to this Event?
Just email Kimberly King at flygal46@yahoo.com
or call me at 251-554-8836.
This is an event for any organization, church, school or group to be a part of.
We welcome you!
---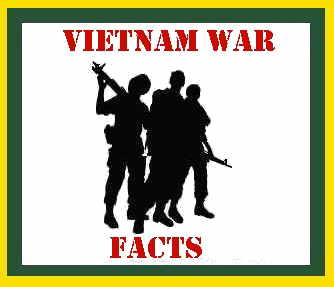 Click Here
for a website complete with facts about the Vietnam War.
---

Photos and Names of Coffee County Vietnam War Casualties
Names and faces of the 19 very young American soldiers
who died in the Vietnam War from Coffee County.
---
Our First
Vietnam Veterans Recognition Day Dinner and Honors Day
29 and 31 March 2018
We had a wonderful evening for our Vietnam-Era veterans with over 92 veterans and friends
from several posts, associations and counties.
Norman Kuk and Tom Clark, of Humana ran a "Name That Tune" event that was extremely enjoyable.
Mitch and Lori Campbell provided us with an excellent meal
of smoked BBQ chicken, beans, potato log and delicious cake.
To view the speeches and events given on Vietnam Veterans Honor Day in Manchester
Please Click Here to view a YouTube video of the presentations.
Thank you to Manchester Times who published the article below, on our event:
Please click here to view a slideshow of photos
taken by Manchester Times during the March 31st event activities.
Please know we are in the process of publishing every photo we took of the walkers for this event
and you will be able to find them online here very soon. Thank you!
Thank you to all who participated and volunteered!!
A very special THANK YOU to ALL who came out and completed
the walk to honor those Vietnam Veterans who served our country.
We approximate that we had about 400 attendees and over 252 who completed a lap around the square.
All Vietnam Veterans were honored on Saturday.
We respect your service and hope to see you again next year.